Ultimate Dashboard PRO vs Whitelabel CMS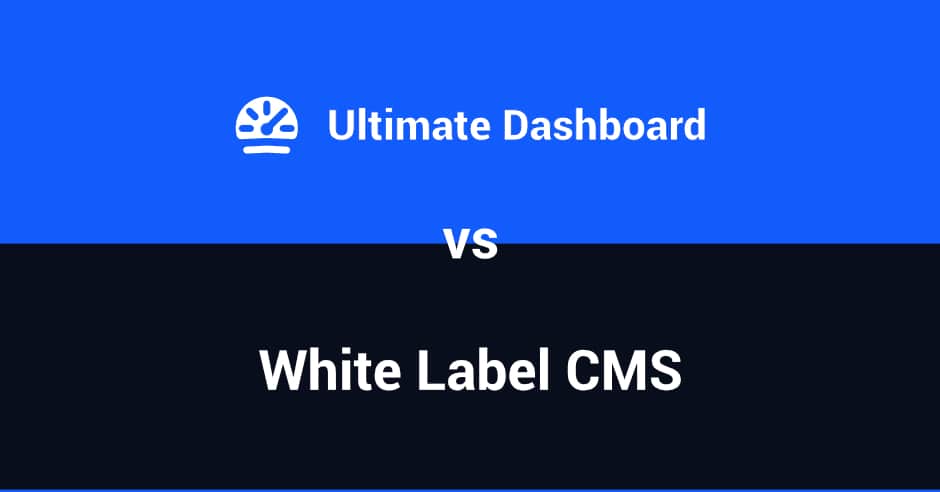 If you are a web developer and create websites for your clients professionally, having a custom Whitelabel dashboard can make your agency look a lot more professional. If you are new to this term, here's a quick explanation:
What is White Labeling?
White label branding for WordPress refers to removing all WordPress logos or branding and replacing it with your own custom brand designs.
This means instead of showing the WordPress logo, you'll show your own brand logo. Instead of using WordPress Blue (#0073AA), you'll use your own brand's color palette.
While the look and "removing WordPress" is a major part of what white labeling covers, you can also take control over the back-end dashboard by adding or removing widgets in the WordPress Admin dashboard to give a personalized experience to your clients.
There are many WordPress white labeling plugins out there, but in this blog post, I will compare Ultimate Dashboard PRO and Whitelabel CMS and check out the features they offer.
Let's jump in!
Ultimate Dashboard PRO vs. White Label CMS: Features Comparison.
In this section, we'll take each aspect of white labeling a basic WordPress installation and see how both plugins perform.
Custom Branded WordPress Login Page
A good white-labeled WordPress backend experience starts at the login screen. Both plugins come with options to create a custom login page and rebrand it.
White Label CMS has a dedicated tab in the Settings > White Label CMS Settings. You can change the login logo, background, colors, etc., but you can't see the changes while making it. You can only customize the login page using some radio buttons, text fields, and checkboxes.
Ultimate Dashboard PRO uses the native WordPress customizer to let you see the changes live while you are making them. You can change the background, logo, styling, alignment, etc., from the same tab, and you can publish all those changes from the customizer itself. On top of this, you also get three pre-designed templates that you can import with a single click.

Changing WordPress Branding Colors
The default WordPress dashboard follows the WordPress blue (#0073AA) and Ultra dark grey (#191E23) combination, and to give an immersive personalized experience to your users, having the option to change the color scheme is a must.
White Label CMS does not have options to change the dashboard colors. The only way to achieve this is by adding custom CSS attributes in the Settings > Custom CSS for Admin text box.
Ultimate Dashboard PRO has a dedicated tab in the settings as "White Label". Here you can change the WordPress admin branding and change the accent color, menu item color, admin bar/menu background color, etc. You don't need to add any custom code to make it match your brand's theme.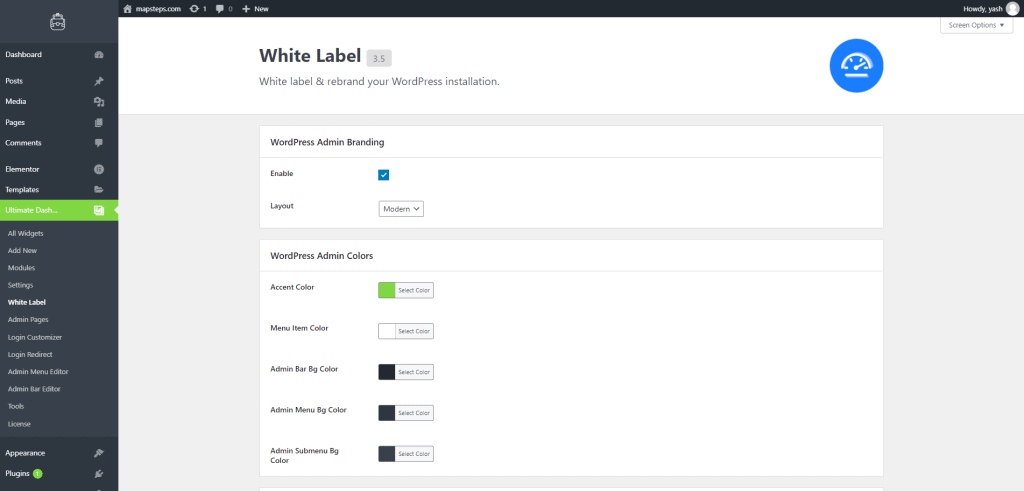 Additionally, Ultimate Dashboard PRO comes with two layout options: default and modern. You can go with the modern layout style if you want a more sleek and minimal look.
Limiting Dashboard Menu Items
If you are creating websites for non-tech-savvy clients, it is good to restrict some of the options to prevent them from accidentally breaking the website.
White Label CMS has a dedicated Menu section that allows you to disable admin menu options that you want to restrict. You just need to go to White Label CMS > Menus tab and enable the hide menus option. You can hide the menu items and sub-items by switching off the toggle buttons.
Ultimate Dashboard PRO does the same, but with greater flexibility. You can restrict the options from the Ultimate Dash… > Admin Menu Editor option, but instead of making changes for all users at once, you can make changes for each user and user role individually.
For example, if you don't want to show the 'posts' menu item to a specific user role, you can remove it just for that user role, and it will still be visible to other user roles. Alternatively, if the goal is to restrict the menu item from a particular user, just switch to the Users tab, select the user, and restrict the option by clicking on the eye icon next to the drop-down for each item.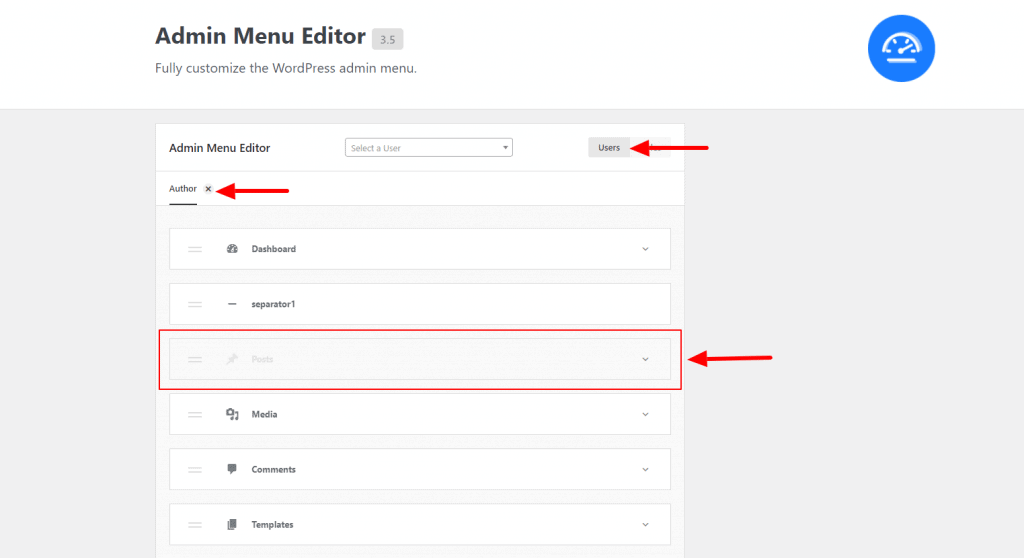 It is also possible to rebrand each menu item with Ultimate Dashboard. You can change the icon, name, and even the menu URL. Moreover, you can add new menu items that can link to custom pages. For example, if you want to place a Contact us option in the dashboard so your clients can reach out to you easily, you can add a custom menu item like this: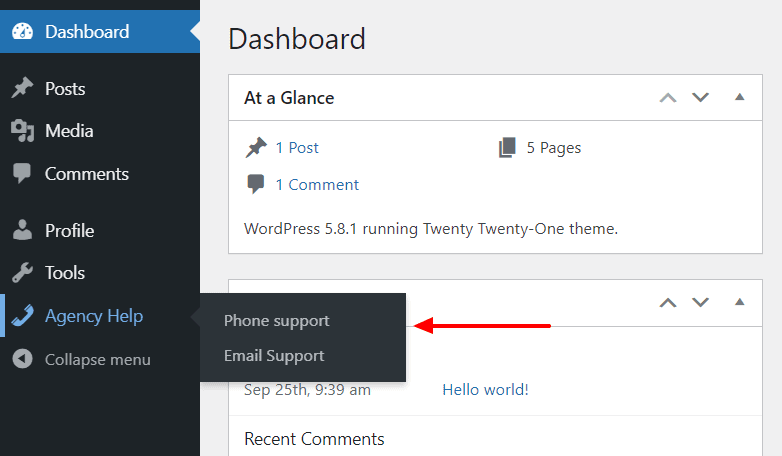 Custom Welcome Dashboard Panel
Although this goes a little off to what white labeling is supposed to do, a good welcome dashboard panel allows you to guide your new website users in the right direction. You can add the important menu items/options in this panel for easier navigation. Let's take a look at what both plugins have to offer.
White Label CMS has a tab dedicated to the customization of the welcome dashboard panel. You can change the dashboard menu item icon and the title, and if you want to hide all/some dashboard panels from the users, you can do it from the Defaults Panels settings.
To create a custom WordPress dashboard, you need to enable the "Add your own Welcome Panel" and select the roles you want it to appear on. Now you can choose if you want to design the welcome panel as a basic HTML design or if you prefer using a page builder (Elementor or Beaver Builder Pro). The design you create will be applied to all user roles you've selected. You do get an option to create a second welcome panel for other user roles so you can have upto two welcome panels.
Ultimate Dashboard PRO lets you make the changes to the existing welcome panel in the Ultimate Dash… > Settings option. You can change the text, links, design, positioning, etc., from the classic editor-based customizer. If you want, you can hide the welcome panel altogether.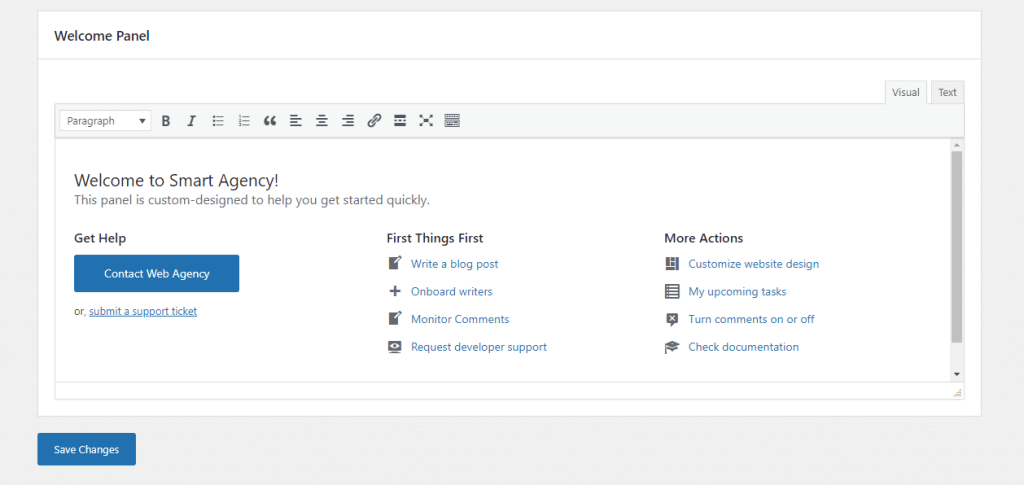 White Labeling Finer Details
Apart from the login page, colors, welcome panels, and menu items, there are places where you'd find the WordPress branding. To make it fully white-labeled, you should be able to change these text and links.
White Label CMS gives you granular control over all placements and promotions of WordPress. You can hide WordPress branding from the branding tab in White Label CMS settings. You can alter the Admin bar, Side Menu, Gutenberg branding, and the footer branding as well.
Ultimate Dashboard lets you customize the footer text, admin logo, logo URL, Howdy text, etc. The option to customize the Gutenberg WordPress logo is not yet available, but you can give your layout a modern look by selecting the option from the WordPress Admin Branding option.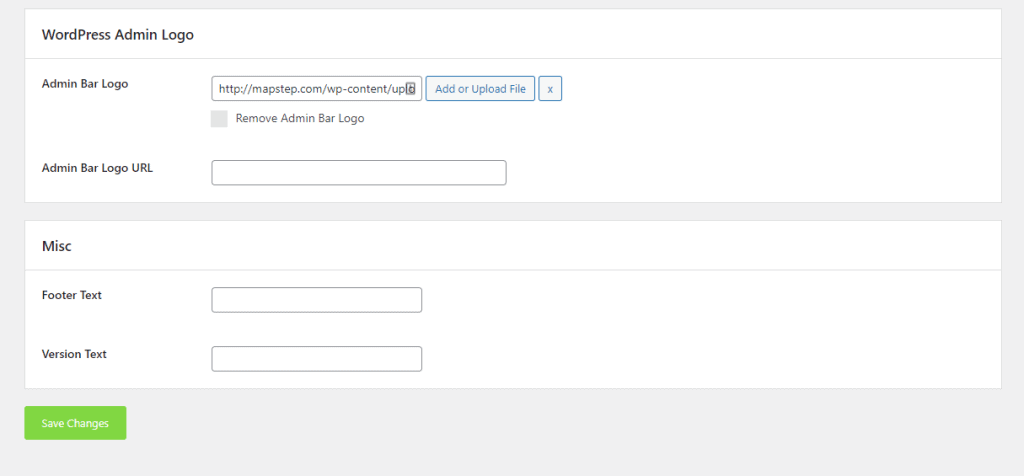 Changing the Login URL
www.YourDomain.com/wp-admin is itself is a big giveaway that the website is built using WordPress. The /wp-admin/ URL is the universal default for WordPress login page. The option to change this URL is an important aspect of white labeling
While the option is not available in White Lable CMS, you can change the login URL with Ultimate Dashboard. You just need to activate the login redirect module, and then you can set up a custom login URL. You can also set up redirects if in case you want your users to go to a specific page after a successful login.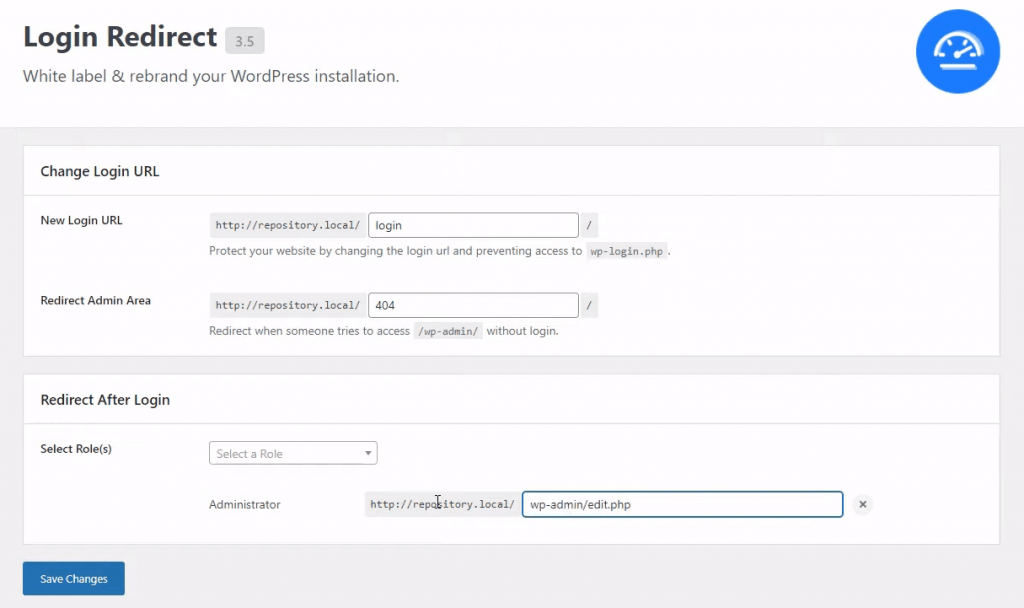 The Verdict: Best White Label Plugin for WordPress
Both Ultimate Dashboard and White Label CMS do an excellent job in white labeling but looking at the customization options and granular controls offered by Ultimate Dashboard PRO, it has proved itself to be the superior one.
With Ultimate Dashboard PRO, you can:
Customize the login page using the visual customizer.
Remove all WordPress branding from the backend.
Add your own brand's theme colors.
Customize the welcome panel.
Add a custom page-builder template for your dashboard (wp-admin) page.
Granularly customize the admin sidebar menu items.
Alter the Admin Bar by adding or removing options.
Redirect users to a different page after logging in.
Change login URL and set up a custom redirect, and much more…
If you want to give Ultimate Dashboard PRO a try, you can get it here.
Let me know your thoughts on this comparison and which aspects of white-labeling are essential to your business. Comment down below!